Main Office
11480 Commerce Park Drive
Suite 220
Reston, VA 20191
Phone: 703-790-8466
Fax: 703-790-8631
The Academy staff is here to serve you with office hours from 8:30 am until 5:00 pm, Monday through Friday. Please take a moment and look through the staff list to find the best fit for your needs. General inquiries are welcome at 800-AAA-2336 or by e-mail.
Holiday Hours
The Academy offices will be closed December 24, 2022, through January 2, 2023. We will be checking email and voicemails and responding to any urgent issues or concerns.
Follow us on Facebook and Instagram.
Student Academy of Audiology Staff
Senior Director of Membership and Student Academy of Audiology, Rachael Sifuentes, MA, CAE, ext. 1048
Directions from Wiehle/Reston East Metro Station (Silver Line) to the Academy Office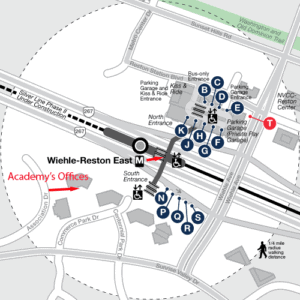 Our office is now accessible by Metro. After passing through Metro turnstiles, exit the station to your right; cross the Dulles Toll Road on bridge. At the bottom of the escalator/elevator, head toward the office buildings/parking garages on the right.
Take a right and briefly walk along the access road with office buildings and parking garages on your left. There is an entrance to a parking garage directly across from the Metro entrance. Enter the parking garage and walk up the ramp on your right, following overhead signs to building 11440. At the top of the ramp, there are two linked chains that prevent auto traffic from moving between the two garages. Cross over/under the chains.
You are now in the garage for 11480 Commerce Park Drive (on level 2). Look to the left for signage "G2 Elevator/Stairs." Take the elevator down to level 3 or stairs down one flight for entrance to building 11480.