Your Home for Externship Resources
Finding an externship opportunity can be challenging. The SAA wants to make the process easy. Find resources to navigate the externship journey here.
Resume Review
You think your resume is ready to submit, but is it really? Find out by asking for constructive and qualified feedback.
HEARCareers is the Academy's resource for jobs and externships in audiology. It provides a resource to view jobs and externships that cater specifically to your profession. Searching for jobs and externships and uploading your resume to the HEARCareers site is always free.
Suggested Timeline for 12-Month AuD Externships
With a growing number of fourth or final-year externs needing placements in their final year, many clinical programs across the nation are receiving year-round inquiries from universities and students. At the request of clinical program directors and in an effort to bring greater uniformity to the application and selection process, the following timeline was suggested by the Academy's Clinical Education Subcommittee in 2006. The timeline will not be ideally suited for every university and every clinical setting; however, movement toward greater uniformity in application and placement should result in a more timely and efficient process, beneficial to students, university programs, and clinical sites.
| | |
| --- | --- |
| Student/Faculty Search Process: | Students/faculty investigate program opportunities, requirements, deadlines; July through October |
| Application Period Open: | Extern sites accept applications during this time period; September and October |
| Application Submitted: | Final date for sites accepting applications; October 31 |
| Applications Files Completed: | Letters and transcripts to be on file; November 15 |
| Interviews: | Externship interviews scheduled and completed; December and January |
| Offers Made: | Offers made by sites to students on February 1 |
| Accepted Round 1: | Offers accepted by students within 2 weeks |
| Follow-up Offers Completed: | Process completed by March 31 |
| Externship begins: | June 1 – July 1 |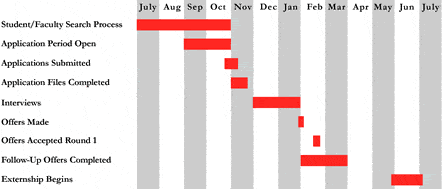 Professional Liability Insurance
Many changes in the healthcare industry have increased personal exposure to an allegation of negligence. And, whether or not the allegation is valid, students need to be able to protect themselves and their families from the financial consequences of a lawsuit. The Student Academy of Audiology has endorsed the professional liability insurance program offered through Healthcare Providers Service Organization (HPSO). The Academy reviewed many programs before endorsing this plan and we selected this program because of the plan's many benefits, affordable rates, and commitment to superior service.
This professional liability insurance program through Healthcare Providers Service Organization (HPSO) is designed to protect your assets and cover your expenses in the event of a suit being brought against you for malpractice. This plan is underwritten by CNA and is designed to meet the unique needs of today's audiologists and student audiologists during their externships.
CNA has been a leader in providing professional liability insurance coverage for over 30 years and is rated A (Excellent) by A.M. Best, Inc., one of the nation's leading independent insurance analysts.
For more information on the professional liability insurance plan offered through HPSO, visit their website, call 800-982-9491, or e-mail service@hpso.com.