Welcome to the SAA Becoming a ____ Audiologist Interview Series! There are many pathways or fields of audiology. In this series, the SAA will interview audiologists who work in varying fields of audiology. Our next interview is with Liz Fuemmeler, AuD.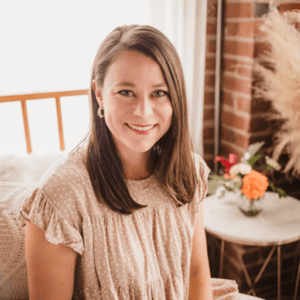 Liz Fuemmeler (she/her/hers), AuD, currently works as the Balance Clinical Product Manager for Interacoustics in Denmark. Her job is to utilize her clinical background and experience to provide suggestions for improvement of the balance products that Interacoustics makes. Dr. Fuemmeler received her AuD from Purdue University.
Q: What inspired you to pursue a career as an audiologist working in the industry?
A: I honestly had not considered an industry position until a couple of years ago. I was working as a full-time vestibular audiologist at a private practice and was interested in contributing to the greater research community. I contacted Interacoustics to see if they had any open research projects I could contribute to and got connected with a multi-clinic project to collect normative data for the saccadometry test. From here, I got a better idea of how industry is an important component to bring research into action.
Q: What does your day entail as an industry audiologist?
A: I work remotely and every single day is different. Most of my job is composed of suggestions to enhance our products, so I conduct research, develop ideas, and test new software. I also attend conferences, teach internationally on the clinical use of our products, and participate in research projects.
Q: What opportunities do you remember from your educational career that helped solidify your interest in the industry?
A: I did not necessarily consider industry while in my educational program; however, I think my participation in research opportunities at my T35 placement (Boys Town National Research Hospital) and externship (Mayo Clinic) highlighted the importance of understanding WHY we do certain procedures in the clinic. I am definitely bringing this perspective into my role to make sure the patient comes first in all of the decisions I make for the product.
Q: What do you know now that you wish you had known when you decided to go into industry audiology?
A: I wish I would not have had such a bias against positions in industry. I think oftentimes, people assume things about positions in industry. As I said before, industry offers a chance to take research and put it into action/practice in the clinic. Without industry partners using current research to create a product, many of these research ideas wouldn't make a difference to our patients. I think the joining of researchers, educators, and clinicians with industry partners will make stronger products, which in turn is important for best patient care.
Q: Is there anything else you want to say or suggest to students considering pursuing the industry side of audiology?
A: Be open to industry positions, reach out if there is a certain manufacturer you are interested in. Even if you do not work for a manufacturer in the future, you will interact with them in some capacity. Keep the door open to collaborate together in some capacity. Openness and communication helps push our profession forward.

This interview was completed by Eliana Dachman, a third-year audiology student at the CUNY Graduate Center in New York, NY. Eliana is a member of the SAA Communication Committee.

As a newer professional, I have learned there are numerous opportunities to learn from or serve as a mentor in our field. Additionally, mentoring takes time and practice. This year I changed jobs from a bustling ENT based hospital clinic to a small multidisciplinary private practice that specializes in pediatric care. Through my previous experience…