Welcome to the SAA Becoming a ____ Audiologist Interview Series! There are many pathways or fields of audiology. In this series, the SAA will interview audiologists who work in varying fields of audiology.
Our next interview is with Robert M. Traynor, EdD, MBA, FNAP, CEO and practicing audiologist at Audiology Associates, Inc., in Greeley, Colorado.
Q: Give us a brief description of yourself, your official title, where you are currently working, etc.
A: Robert M. Traynor, EdD, MBA, FNAP was the CEO and practicing audiologist at Audiology Associates, Inc., in Greeley, Colorado, USA offering general audiological and intraoperative services to patients of all ages for 46 years. Dr. Traynor holds degrees from the University of Northern Colorado (BA, 1972, MA 1973, Ed.D., 1975), the University of Phoenix (MBA, 2006) and completed Post-Doctoral Study in Audiology at Northwestern University (1984).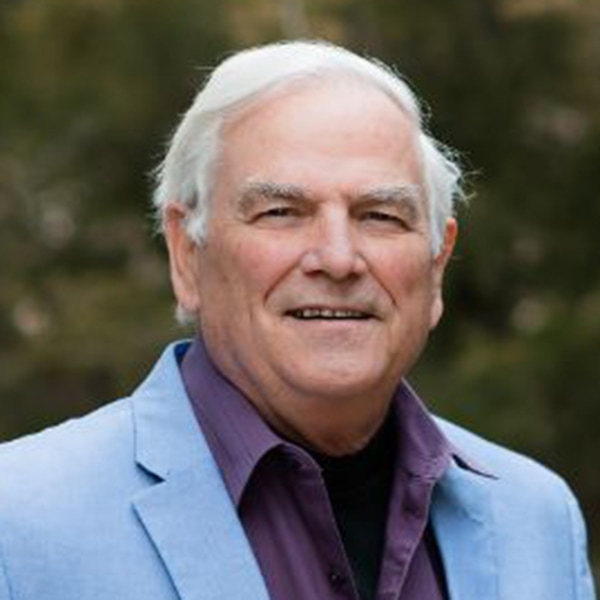 Dr. Traynor taught Audiology at the University of Northern Colorado (1973-1982), University of Arkansas for Medical Sciences (1976-77), and was Professor and Director of Audiology at Colorado State University (1982-1993). He is a retired Lt. Colonel from the US Army Medical Service Corps (audiology) and is currently an Adjunct Professor of Audiology at Rush University, Salus University, and the University of Arkansas for Medical Sciences. He holds the Certificate of Clinical Competence in Audiology from the American Speech Language Hearing Association and is American Board of Audiology Certified, which he served as Chair for in 2017. Dr. Traynor also serves as a Course Director and a Professional Supervisor for the Council for Accreditation in Occupational Hearing Conservation.
He was President of the Colorado Academy of Audiology 2012-2013 and the recipient of their 2014 Lifetime Achievement Award. In 2017, he was awarded Fellow of the National Academies of Practice: Audiology. The Academy of Doctors of Audiology presented him the Joel Wernick Award in 2019 for outstanding educational contribution within the profession of audiology or hearing science.
Currently, he is President of Robert Traynor Audiology, LLC, a host for this Week in Hearing and a member of the Board of Directors for the American Tinnitus Association. He is a co-author of Strategic Practice Management 3rd Edition; a textbook used by most university programs in the United States. For 17 years (1993-2010), Dr. Traynor was Senior International Audiology Consultant to a major hearing instrument manufacturer traveling the world providing academic audiological educational training and product orientation for distributors and their staff. Dr. Robert Traynor has lectured in over 40 countries on most topics in Audiology.
Q: Where did you receive your bachelor's and AuD (or PhD)?
A: In my era, an audiology doctoral level education was first obtained by holding a bachelor's degree (in audiology and deaf education), then a master's degree (audiology). Progressing to the doctoral level, select audiologists were trained in graduate schools, and the emphasis and designation for the degree depended upon the department and the college where the program was located. At that time, doctoral students studied for the PhD, ScD or the EdD. My doctoral program was in the School of Special Education, so I hold the Doctor of Education. My BA, MA, and EdD are from the University of Northern Colorado, Greeley, CO. I also conducted further audiology education with Post-Doctoral Study in Audiology at Northwestern University, Evanston, IL. As a practice management professor and an audiology practitioner I also hold a Master of Business Administration (MBA) from the University of Phoenix, Phoenix, AZ.
As a professor and audiology program director at Colorado State University, I was a major supporter of the Doctor of Audiology degree movement and the implementation of these programs. I also supported the upgrade of the profession to the doctoral level as part of what became Salus University for some time and the University of Florida's AuD Faculty for 20 years.
Q: What made you want to become a forensic audiologist?
A: I had conducted some forensics as part of my audiology practice doing audiological evaluations, some testimony, and writing some reports for attorneys. One case led to another, and when I sold my practice in 2019, I decided to enter forensic audiology full-time. This area of practice allows you to take your whole career, training, specializations, clinical experience, academics, patient interactions, and other specifics of the profession and concentrate them on this one legal problem …either defending the accused or arriving at a just settlement for the plaintiff.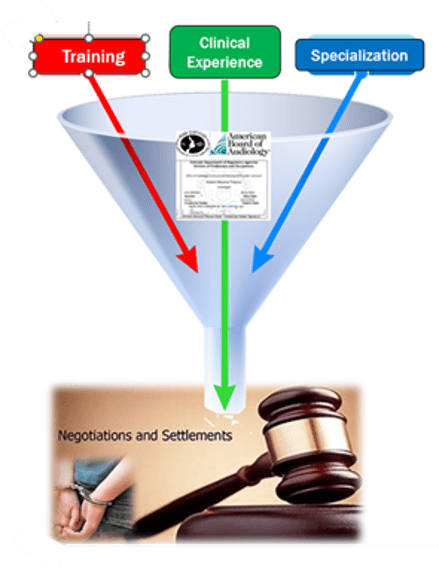 Q: What does your day entail as a forensic audiologist?
A: A lot varies according to the type of case being processed. In general:
When working on a case, there is an issue at hand. For my specialization it may be hearing loss, tinnitus, audiology malpractice, vestibular impairment, or discrimination against individuals with hearing loss, or some other issue. This must be fully investigated as to what exactly happened to the person. There are records to review, police reports, testimony from witnesses, and the situation of the injury or other variables depending upon the type of case. There are usually medical records that must be reviewed as well. Once all the data is in, an opinion is considered, and then justified or ruled out by the literature. Then a report with specific opinions is generated. Sometimes the opposite side will have a rebuttal to the report that may or may not need to be answered. Once the report is reviewed and accepted, then there may be a deposition (recorded testimony under oath outside of court, or under oath trial testimony in court).
As an expert, I have now been involved in railroad crossing wrongful death, airbag deployments, rear end collisions, audiology malpractice, practice disputes between audiologists, bar fights, MRI noise cases, product liability, Enlarged Vestibular Aqueduct (EVA) cases, and hearing conservation and noise in both criminal and civil litigation. This is only a small part of the litigation I have had the opportunity to offer expertise involving hearing loss, noise exposure, vestibular impairment, business issues and other types of litigation. For most of these cases, I have served attorneys for either the defense or the plaintiff (prosecution) sides.
Q: What classes or additional education would you suggest for students wanting to pursue becoming a forensic audiologist?
A: First, I do not recommend that new audiologists enter forensic audiology right out of school as it takes extensive experience and a deep knowledge of the literature to support and defend your opinions in court. This experience and expertise is crucial in order to be successfully retained by attorneys and offer them assistance in understanding their cases. I would, however, suggest that aspiring forensic audiologists begin keeping a detailed curriculum vitae (CV) (not a simple resume) to document their positions, experience, honors, service, to the profession, publications, presentations, as well as specializations.
Secondly, I would suggest that the prospective forensic audiologist take some expert witness training courses from lawyers familiar with helping non-legal professionals create a career in the legal profession as an expert in their designated field. While there are a number of these practices that offer courses to experts, one of the companies that I recommend is SEAK, Inc. They, among others, offer books as well as online and live courses that train legal experts in the special art of preparing a legal expert report and testimony for easy digestion by attorneys, the court, and the jury. While these courses are comparatively expensive by audiology standards, they are paid for in your first case or two and greatly enhance your capability to serve as an expert witness. In time, there may be some of these courses offered by current forensic audiologists.
Q: What opportunities do you remember from your educational career that helped you solidify your interest in forensic audiology?
A: Virtually everything from academic preparation to patient care to product orientation. Any specializations that are obtained greatly assist in obtaining cases.
It is essential to be licensed in your state (not necessarily in the state where the case is litigated), as well as certified by organizations. For example American Board of Audiology (ABA). Teaching experience helps as the expert is perceived as one that can explain complex topics in a format that is easily understood by the jury. No matter if it's pediatrics, adults, vestibular, hearing conservation, or other specialized areas, there will be experts required to clarify certain case aspects of various components of audiology practice.
Q: What kind of clinical placements would you suggest to a student wanting to go into forensic audiology?
A: You can create a career in forensic audiology following most any clinical placement as it is part of the overall experience that offers the expert the clinical perspective necessary to interpret the complex audiological information into a report and later into either deposition or trial testimony, if necessary.
Q: What do you know now that you wish you knew when you were deciding to go into forensic audiology?
A: I am currently preparing a book on this for Plural Publishing. I did not know how to set up my Curriculum Vitae, the types of cases, types of courts, how experts could be disqualified, the difference between civil and criminal litigation, or a number of other concepts related to legal practice. Forensic audiologists do not need to be lawyers and most attorneys do not want them to be, but the text coming out this year (2023) will go over most of the areas that I felt necessary for audiologists to consider as they move into the litigation of cases involving our expertise.
Q: Is there anything else you want to say or suggest to students considering going into forensic audiology?
A: Ensure that you are ready to move to forensics, then once there, you will find it to be a part of the field that allows you to take the sum total of your training, specializations, certifications, internships, and experience in all components of the profession within your scope of practice and focus that directly on the case at hand.

Welcome to the SAA Becoming a ____ Audiologist Interview Series! There are many pathways or fields of audiology. In this series, the SAA will interview audiologists who work in varying fields of audiology. Our next interview is with Karla Quinones Ortiz, AuD, an audiologist working as the Oticon Education and Training Specialist for the Mid-Atlantic region. Q:…