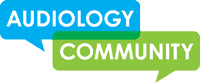 You asked. We delivered.
This Academy collaboration platform allows members to easily interact and communicate online and is meant for general and topical audiology discussions and interactions. Check out our dedicated communities for Students and New Professionals.
Here's a quick overview of some of the features:
Enhanced discussion capabilities

. You'll receive emails that are more structured and easier to read than a traditional listserv or forum alert.

Granular privacy controls

. You can have complete control over what information you share with members of the community and your contacts.

Centralized subscription management

. You can manage your subscriptions to all discussions in one place. Choose to receive daily digests or real-time emails by group.

Resource sharing

. All attachments posted to discussions are archived in a dedicated Resource Library. You can also add documents to share anytime you want.

Connect with LinkedIn

. With one click of a button, you can upload your LinkedIn profile to your audiology community profile.