It's about that time…the frenzied externship search is about to begin. You might be wondering: when should I start looking, where should I start looking, and even…what information do I need to apply?
The Student Academy of Audiology (SAA) has you covered. Continue reading to learn more about a suggested externship timeline, the audiology-focused job and externship board, HEARCareers, what you need to begin your search, and get inside advice from a current extern, preceptor, and new professional.
What Is the General Time for an Externship Search?
First thing first, when should you start your externship search?
In April 2021, the Student Academy of Audiology (SAA) Education Committee conducted a survey with 166 AuD student participants regarding the externship application. In regards to the externship timeline, this is what they found:
| | |
| --- | --- |
| April-July (Prior year before externship starts) | 72.3% of students surveyed began preparing for the externship search (i.e., learning about the process, developing resume/CV). |
| August-September | Almost three-fourths (73.5-74.7%) of students began applying to externships. The majority (59.6%) of students submitted between five-ten applications throughout the externship search. |
| September-October | Over two-thirds (66.9-68.1%) reported having an interview. |
| September, October, and November | 83.2% of respondents reported the highest volume of acceptances towards the end of the year. |
Additionally, the Audiology Clinical Education Network (ACEN) created a general timeline students can follow when conducting their externship search in 2022-2023: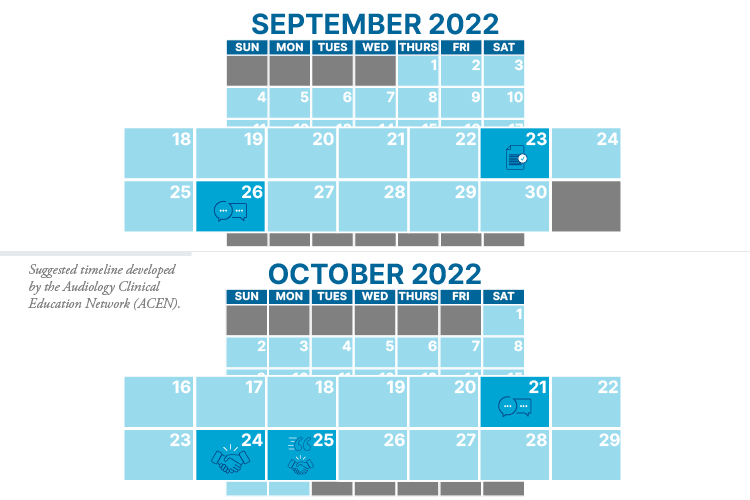 What Is HEARCareers and Are There Benefits of Using It for the Externship Search?
Now that you know when to begin, you may be wondering where you should start searching. Look no further than the Academy's year-round job and externship board, HEARCareers.
That's right. Forget about searching high and low on job boards that don't apply to your industry. Applying for externships through HEARCareers has a wealth of benefits including, but not limited to:
Accessing and viewing hundreds of audiology externship listings year-round*
A filter option to search by externship in your preferred location
Fully-developed externship postings with information on salary, location, practice setting, required materials to apply, and site information such as number of audiologists working at the location, vacation days, student preferences and more
The option to set your account to private, confidential, and public depending on where you are at in your externship search journey
The ability to know how many times your profile has been viewed and how many applications you have submitted
* According to our research, preceptors post externship opportunities on HEARCareers year-round with the bulk of the postings starting in May and peaking in August and September of each year.
Is There a Fee to Set up a HEARCareers Account?
Those looking for externships are able to create a profile and apply to externship opportunities free of charge through HEARCareers.
How to Create a Successful HEARCareers Account
If you already have a HEARCareers account, SAA encourages you to review your information, including your resume to ensure it's up-to-date.
If you do not have a HEARCareers account, follow the steps below to begin:
On the job seekers page, click "sign in."
Once the module appears, click "sign up." You will need the following information: First Name, Last Name, Email Address, and Preferred Password. You can also use Facebook, Google, Twitter, or LinkedIn to sign in.
Once your account is created, you'll need to confirm your email address. You will receive an immediate email from system@jobcontrolcenter.com for this.
Now that your account is created, you can sign in and go to your "Overview" dashboard to begin updating your profile!
Under "Profile Views," click "Update Your Profile." You'll need your resume for this or you can manually add in your information.

Prefix
First Name*
Last Name*
Email Address*
Address
Phone Number
Academy Member Status*
Employment History (Employer, Title, Position Start and End Date)
Education History (School Name, Degree, Date Graduated)
Career Job Title
Career Statement
Career Categories*
Education Completed*
Are You Currently a Full-Time Student?
Expected Salary
Employment Type
Are You Interested in Internships?
Are You Interested in Entry Level Positions?
Are You Willing to Relocate?
Are You Willing to Travel?
What Is Your Work Authorization Status?*
Document Upload
Update Your Profile Visibility

Public: My Profile and any documents I select are searchable.
Confidential: Only My Profile is searchable but my contact information is hidden.
Private: My Profile is not searchable.
* All items with an asterisk (*) are mandatory to fill in.
Are There Prerequisites Before a Student Can Apply for an Externship?
As you begin your externship search, you might be wondering if you've met all of your prerequisites. The good news is that many prerequisites come down to the core classes you have taken.
"Oftentimes a student is "cleared" to begin applying for externships. Many programs have a designated point person in their department who asks for a student's site preferences (if any), discusses previously established relationships with externship placements, creates contractual agreements between the program and externship site, and may or may not help them create cover letters and CV/s resumes."

Samantha Ramirez, AuD, chair of SAA's new professional committee and audiologist and preceptor at Kaiser Permanente Hearing Center in Redwood City, California
While many prerequisites come down to the classes you've already taken, it's always recommended to check with each externship site on what they require.
How to Begin the Externship Search on HEARCareers
Starting an externship search is a long process, one that can begin a year before the externship starts. When using HEARCareers, you can view a long list of open externships here. Viewing this list earlier can give you a good idea of what externship sites are looking for, any required materials that you might need, and where there are high concentrations of externships.
Once you are ready to begin searching, toggle to the "jobs" tab or click here. While this list is comprised of externship and job opportunities, you will be able to use the HEARCareers' filter system to find the perfect externship for you with the following parameters:
Level: Choose Externship
Primary Practice Setting: You'll be able to choose the setting you're most interested in such as hospitals, private practice, or VA medical hospital.
Financial Arrangements: You'll be able to view externship opportunities based on the pay involved such as salary or stipend.
Location: If you have a preferred location, feel free to add that to the filter.
How To Choose an Externship That Fits You
An externship will provide you with a wealth of information and an opportunity to grow and learn in the audiology profession. That's why it's important to find an externship that will work for your needs.
When looking for an externship, keep in mind the location that you'd like to be in, the practice setting, and any financial arrangements that might be necessary for your situation.
Students should also think about, "if the externship has a clear explanation of which specialties will or won't be a part of the rotation, if it's one site or traveling between sites, if it's a solo externship or if you'll be with other externs, and if the externship could translate into a job opportunity."

Sarah Ostlie, AuD, chair of the SAA advisory committee and clinical audiologist at Mayo Clinic in Rochester, Minnesota
Students should also think about, "what population the site serves such as pediatrics or geriatrics, as well as the expected hours of being at the site per day."

Alexis Leiderman, AuD student, 2022-2023 President of the Student Academy of Audiology and fourth-year at the CUNY Graduate Center in New York. She is completing her externship at New York Presbyterian Hospital/Columbia University Irving Medical Center.
Additional Advice from Dr. Ramirez
When you're looking for externships, there are many important items that you'll need to think about according to Dr. Ramirez, including:
Recommendation Letters: Dr. Ramirez says that "recommendation letters are very important in our decisions. I highly recommend at least one professor or faculty member and at least one clinical preceptor to write recommendations. I tell them the third letter can be from another professor/clinical preceptor, or even a former boss unrelated to audiology."
Resumes and Cover Letters: When it comes to resumes, Dr. Ramirez also recommends that students used the American Academy of Audiology's free resume review service. This service provides real feedback on resumes and cover letters from audiologists.
Interview Preparation: If a student gets an interview, Dr. Ramirez advises students to "practice interviewing, some programs will do this for students, but if they don't, they should seek out practicing interviewing with their mentors. Get your elevator speech down, and practice answering basic interview questions out loud."
You've Applied for Externships. Now What?
So, you've applied for an externship and you're wondering, "what happens next?" Many externship sites will email you to notify you of your acceptance or non-acceptance.
If accepted, these emails will entail descriptions of the job, stipend, start/end date, other details specific to the externship site, and a requested answer date.
"At my site, we require a response (accept or not) from the student within 48 hours – that is not uncommon. We also include pre-employment requirements such as temporary licensure, drug screening, onboarding documents required, and more."

Dr. Ramirez
Academy and SAA Resources for Externship Seekers
The Academy and SAA have a wealth of resources for students about to start their externship search.
If you have questions about the externship search, HEARCareers, or a resource suggestion, feel free to email our staff.
By Alexis Leiderman, BS If you are like me, you might have just had that "oh shoot" moment. That moment you never thought you would actually have: you will be graduating in a mere few months. So…now what? Time really has flown by and externship is already halfway over. You have had good days, bad…