Welcome to the SAA Becoming a ____ Audiologist Interview Series! There are many pathways or fields of audiology. In this series, the SAA will interview audiologists who work in varying fields of audiology.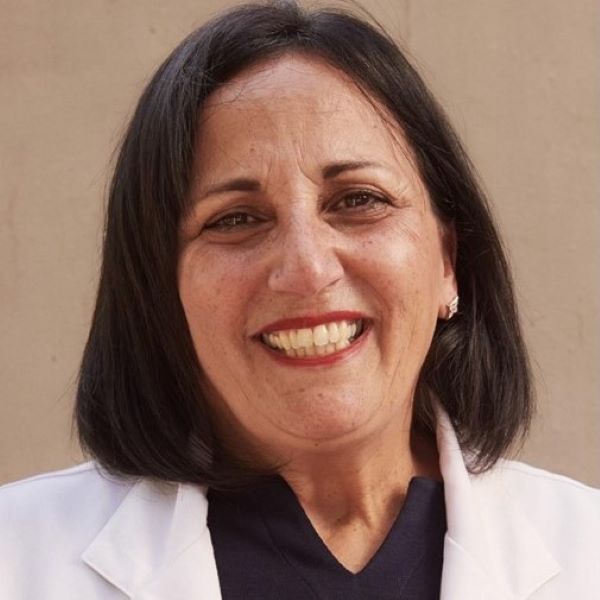 Our next interview is with Randa Mansour-Shousher, AuD, a clinical audiologist who has been practicing for 41 years.
Q. Give us a brief description of yourself, your official title, where you are currently working, etc.
A: My name is Dr. Randa Mansour-Shousher. I am a clinical audiologist who has been practicing for 41 years. After graduating from the University of Michigan with my Master's degree, I started my first job as an Audiologist in Texas and then relocated to Toledo, Ohio, where I worked at the Medical College of Ohio as the audiologist of the audiology department in a hospital system and worked in the patient rehabilitation department.  I became the director of the inpatient rehab department along with the Audiology department while starting my own private practice, which I ran for 32 years until I recently sold in 2021.
Q: Where did you receive your bachelor's degree and AuD (or PhD)?
A: I received my bachelor's degree from the University of Toledo, my Master's degree from the University of Michigan, and my AuD from A.T. Still University of Health Sciences.
Q: What made you want to become a humanitarian audiologist?
A: My family background has greatly influenced my desire to use my skills as an audiologist to help others. I was born in Paris, France, to immigrant parents. My mother was born in a suburb outside of Jerusalem and became a refugee during civil unrest in Palestine and her family relocated to Jordan.  My father was born in EL Bireh which is a small town in Palestine, which is considered to be in the West Bank.  My father was going to medical school in Paris seeking to gain a future for his family and being the first family member to have a college degree.
As a child growing up, my family used to go on fun weekend trips outside of Paris. One weekend, as we were driving to the Tulip Festival in Holland we were stuck in traffic. Apparently, there had been a car accident. My father, who was a physician, and my mother, who was a nurse's aide, left the car to go offer their help. Several hours later, my parents returned to the car. They said it was too late, and that we needed to return home. My sister and I were disappointed and started to cry. At that moment, my parents said something that continues to stick with me today. They told us that the most important thing in life is to help people first and then take care of yourself. They taught us to use our gifts to always help people. As I look back this was one of the earliest teaching moments of giving back. Whether it was food, money a place to lay your head, providing education to others, or sharing your skills, our parents demonstrated how important it was to give to those in need. I have continued to remember that trip as a point of reference.
Fast forward several years to when I became an audiologist and developed my own gift. I was at a conference in Washington, DC, designed for Arab Americans to work and find ways to help each other. While I was walking around the different tables, I came across a non-profit organization called American Near East Refugee Aid (ANERA), which is an agency dedicated to helping Palestinian refugees in the Middle East. At the time, they were working to conduct preschool hearing screenings in the Middle East and they asked me if I would join their medical advisory board. I agreed to join the board and began doing trips with them overseas. This was my first taste of being part of an overseas audiology-focused humanitarian mission.
As I got older, I started organizing humanitarian trips by simply distributing hearing aids to children living overseas. While this was meaningful work, I did not always feel good about it because I knew I was just handing patients a hearing aid without providing any proper fitting services. However, as time went by, I started a non-profit called HearAide to remedy this problem. At first, HearAide only serviced the people of Toledo, Ohio, by offering them low- or no-cost access to hearing-health services, but then eventually HearAide began helping people overseas as well. I continue to take pride in the fact that HearAide is a family-oriented organization with all my different family members contributing in a crucial way.
Q: What does your day entail as a humanitarian audiologist?
A: As an overseas humanitarian audiology trip leader, I am responsible for planning every aspect of the mission. There are many logistical details to consider while planning an audiology-based humanitarian mission. First, it is important to collaborate with local partners who can assist on the ground with the navigation of the local government and customs. It is important that the government is aware of the mission and gives us permission to bring the proper equipment with us to avoid any complications.
Every project consists of a group of volunteers who come from different places and backgrounds to help provide hearing healthcare services to those in need. Previous volunteers have included audiologists, students, attorneys, and even some presidents of the biggest healthcare systems in America. We love taking students because it is a learning experience for them. We train each of our volunteers to do specific jobs and then we travel overseas to carry out our goal.
While the location we visit may vary, each temporary clinic is established in the same manner using different stations. The primary stations that we establish include a registration station, a hearing test center, an earmold lab, and a place to conduct hearing aid fittings, as well as counsel patients and families about the results.
For every mission, we try to get a patient list ahead of time, to be able to review any previous audiograms that might have been done to be able to get a better sense of who could be a hearing aid candidate and who will not be. This is a crucial step because we do not want to waste time. Some people drive for three hours to see us, while others in a refugee camp might hear we are coming and spend three months eagerly awaiting our services only to find out that due to their specific hearing loss configuration, a hearing aid will not provide them with any benefit.
Therefore, by looking at the potential patients hearing documents beforehand, we can get a better sense of who will qualify for hearing aids in order to better manage expectations. This step also helps to give us a sense of how many hearing aids and batteries we should bring with us.
A typical day on an overseas trip begins at 7:30 am and concludes at around 5:00 pm. Each overseas trip also features a mix of clinic days and travel days. I think it is important for volunteers to not only spend time providing services to those in need but also have time to explore the local culture and attractions.
I am very excited about our upcoming trip to Jordan in May where we will be partnering with the King Hussein Cancer Center to treat cancer patients who are experiencing hearing loss as a result of their treatment. On a previous trip to Jordan, we saw 29 adults post-radiation and 26 children with brain tumors, and the hospital was appreciative since they had no such program available in the past. Our hope is that we will establish a clinic and collaborate with the local audiologist to ensure no on gets left behind.t.
Q: What classes or additional education would you suggest for students wanting to pursue becoming a humanitarian audiologist?
A: I think that putting your hands and digging into a trip is the best way to learn!
Q: What do you know now that you wish you knew when you were deciding to go into humanitarian audiology?
A: I wish I would have started earlier! I think I was scared because I did not think I could do it.
Additionally, while I have mostly spoken about my overseas humanitarian audiology efforts, I also provide local humanitarian audiology services in Toledo, Ohio. Twice per month, I set up a hearing clinic at the University of Toledo where the medical students and HearAide provide services to the local community. I also go to churches and set up similar events.
Although my local efforts have not been as successful as oversea efforts, it is still a rewarding experience and we are constantly looking for innovative ways to continue to reach out to underserved patients locally.
Q: Is there anything else you want to say or suggest to students considering going into humanitarian audiology?
A: I think everyone should get involved in humanitarian audiology efforts, as it is a wonderful way to give back to local and global communities. You may think you do not have anything to offer, but everyone has valuable skills and experiences. By putting yourself out there and trying something new, you will find your niche and it will change your life. You will find your purpose.

Melissa E. Heche, AuD, ABA Certified, CH-TM, is the owner and director of New York Speech and Hearing—a private practice based in New York City that focuses on the diagnosis, prevention, and treatment of auditory disorders, tinnitus, and voice disorders. Treatment measures include amplification devices, aural rehabilitation, tinnitus management, and specialized voice therapy. Q: Give…