Welcome to the Student Academy of Audiology (SAA) Pathways to Audiology Interview Series! While many audiologists come from a Communication Science Disorders (CSD) background, others have taken different pathways to the field. In this series, the SAA will interview both audiologists and AuD students who have or are taking non-traditional routes into the profession of audiology.
Our next interview is with Madeleine Campbell, a second year audiology student at the Graduate Center at the City University of New York (CUNY).
Q: Give us a quick description of yourself, your pronouns, where you are getting your AuD, your academic year, and what your current interests are in the profession of audiology.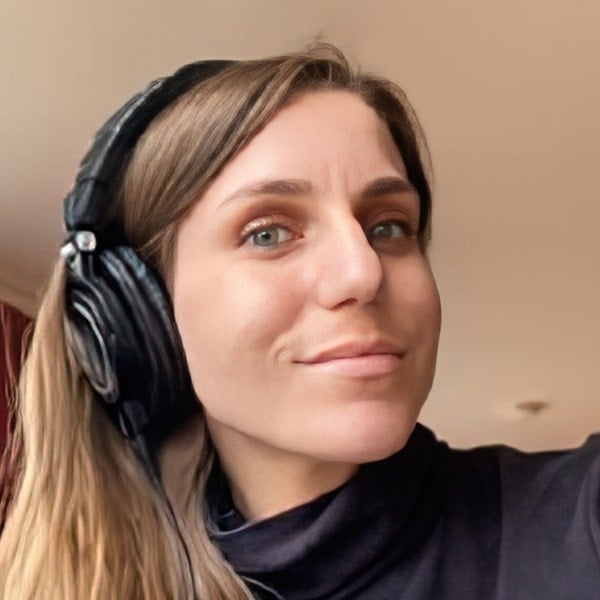 My name is Madeleine Campbell (she/her). I live in Brooklyn, New York, and I'm a second year AuD student at the Graduate Center at the City University of New York (CUNY). My current interests are auditory processing and signal processing. I'm also excited to become more involved in public health outreach efforts and opportunities to advocate for our field at federal, state, and community levels.
Q: What were you doing before you decided to enter the profession of audiology?
Before starting my AuD program, I was a live sound engineer. I earned my Bachelor of Music degree from Duquesne University in Pittsburgh, Pennsylvania, where I studied music technology and cello performance. I spent about eight years working in various realms of audio, from recording studios to performance venues. In 2016, I opened a small project studio of my own called Accessible Recording, where I recorded albums with about 30 different bands and musical ensembles. I also worked on an audio guide for the Andy Warhol Museum that paired with tactile, 3D printed reproductions of the art, allowing visitors who are blind or have low vision to experience Warhol's expansive body of work. From 2017 to 2020, I mixed front-of-house sound and in-ear monitors on concert tours all over the United States, Canada, Mexico, and Europe. In 2019, I moved to Brooklyn, where I continue to work part-time as an audio editor with an incredible audio agency called 3dB. I also host a radio program of my own called Women in Sound, dedicated to sharing the stories and creative processes of women and non-binary people working in all areas of live and recorded sound. I began my AuD program in Fall 2021 and I think my foundation in audio, though a totally different application of sound, has been an asset for me.
Q: How were you first exposed to audiology?
I remember first hearing the word "audiology" at the 2018 Audio Engineering Society (AES) convention in New York City. Laura Sinnott, AuD, a seasoned audio engineer and sound designer, who is now also an audiologist and alumna of my AuD program, presented her research on sound-induced hearing disorders in audio post-production engineers. It was intriguing to me; however, it wasn't until after my mom experienced a traumatic brain injury in 2019 that I began to consider this path on a deeper level. She has unilateral hearing loss, severe tinnitus, and issues with sound localization, but overall, she's had an amazing recovery and continues to inspire me every day.
Q: What made you switch to audiology from your previous track?
After learning more about my mom's audiologist and the compassionate care she received throughout her recovery, I knew this was a field I wanted to pursue. I remember holding up her hearing aid for the first time and realizing it was essentially a very tiny PA system, fundamentally similar to the audio systems I used to amplify sounds in concert venues: there was a microphone, some amount of signal processing, amplifiers, and a speaker. At that point, I began researching AuD programs in the northeastern US and took two semesters of prerequisite courses in order to have a competitive application. So far, it's been a sincere joy to learn about the auditory system and another application in which I can serve others through sound.
Q: In your opinion, what is the most fascinating thing about audiology or the ear?
I'm currently most fascinated by the central auditory nervous system, especially our abilities to localize and discern sounds in various listening environments. The human brain is phenomenal! I'm taking my first auditory processing disorders course this semester and immensely enjoying the subject matter so far.
Q: What advice would you give to someone who is contemplating going into or switching to audiology?
I'd say go for it! This field has more pathways and subspecialties than you may realize, so keep an open mind and, as far as AuD program applications go, think about how your background sets you apart from other applicants. I consider my transition to audiology one of the best decisions I've ever made.
This interview was completed by Leah Joshowitz, BS, a second year audiology student at the CUNY Graduate Center in New York, New York. Leah is a member of the SAA Communications Committee.

Welcome to the SAA Becoming a ____ Audiologist Interview Series! There are many pathways or fields of audiology. In this series, the SAA will interview audiologists who work in varying fields of audiology. Our next interview is with Robert M. Traynor, EdD, MBA, FNAP, CEO and practicing audiologist at Audiology Associates, Inc., in Greeley, Colorado. Q: Give…