Several of our Purdue SAA members, as well as other Purdue Speech Language & Hearing Science (SLHS) students, spent their day in Indianapolis at the state capitol building. We spoke to several State Senators and Representatives from around Indiana after a morning of advocacy training to talk about our field.
Student advocacy is a great way to get direct involvement with the policies that affect our career as audiologists. We had a great turn out and an even better time.
Interested in becoming a student advocate? Participate in the SAA's National Day At Your State Capital Day (NDAYSCD) initiative!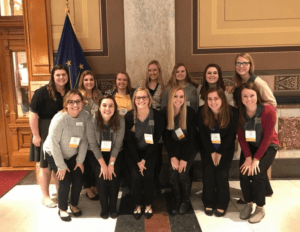 The University at Buffalo SAA Chapter participates in Buffalo's Walk4Hearing event every year. They participate by walking, volunteering to set up and clean up, helping with children's activities, displaying event signs, assisting in event parking, fundraising, and coming together as a group to support our community. Not only is this a fun and active way…