By Abigail Simon, BA
Abigail is a third-year audiology student at The Ohio State University. She serves on the SAA Board of Directors and is currently chair of the Education Committee.
This summer, I had the opportunity to serve as a T35 research trainee at Boys Town National Research Hospital (Boys Town). I remember first hearing about this program as an undergraduate student and thinking it would be neat to participate one day in the future, but not fully understanding what it entailed. As an AuD student at The Ohio State University, I talked about the program offerings with professors and former T35 trainees, who all spoke highly and encouraged me to apply.
The T35 program is funded by the National Institute on Deafness and Other Communication Disorders (NIDCD) at the National Institutes of Health (NIH) and provides an opportunity for AuD students with an interest in research to obtain exposure and experience in an active research lab for a summer. There are currently three sites offering the traineeship, each with up to five spots per year: Boys Town, Vanderbilt University, and the National Center for Rehabilitative Audiology Research (NCRAR). At each site, student trainees are assigned to work alongside an established scientist and are involved in a specific project. Trainees work full-time for approximately three months conducting research, attending seminars, meeting with scientists, learning about research ethics, and exploring career opportunities within research with an AuD or PhD.
I spent my summer at Boys Town working with Ryan McCreery, PhD, in the Audibility, Perception and Cognition Lab. Dr. McCreery's research focuses on how amplification, language, and cognition support speech perception for children who are hard of hearing (CHH) to improve outcomes for children who wear hearing aids. My project investigated if the current way we verify hearing aids for children at loud input levels and if it is appropriate. By the end of the summer, I had seen 20 children with normal hearing and 14 CHH for my project. Specific to my project, I learned how to run a hearing aid simulator using MATLAB software and calibrate using a KEMAR manikin! I met incredible children and their families, who often had many interesting questions about my project and research in general. I was mentored and trained by lab members to contact families for student recruitment (scary at first!), test participants, troubleshoot errors, make sense of data, and more. I became more comfortable with the scientific writing process and the many steps from project inception to eventual manuscript publication.
At the end of the summer, the five research trainees at Boys Town presented our projects to Boys Town researchers and staff members. We each prepared ten-minute presentations and conducted a Q&A session at the end. I felt prepared and supported to speak on my project and had a great sense of accomplishment in the end. Next spring, we will present our research projects as poster presentations at the American Auditory Society (AAS) conference.
Aside from full-time work weeks, the other T35 students and I had plenty of time to explore the greater Omaha area. We enjoyed many Omaha happy hours and food spots, attended baseball games including the College World Series, sang karaoke, celebrated birthdays, and more. It was great to form friendships with other audiology students from around the country and I have no doubt we'll remain friends and eventually become colleagues.
After becoming involved with hearing research during undergrad, I was hopeful that I'd have the opportunity to participate in a T35 program someday. The experience immersed me in the world of research and gave me a greater understanding of what it entails. I feel so lucky to have had a summer full of learning and friendship. My expectations were surpassed on many levels.
Participating in the T35 program helped me determine my career goals and better understand my audiology interests. While I enjoy being in the clinic and working with patients, I now know I also want to incorporate research into my career. Whether I eventually work hybrid clinic-research, as a research audiologist, or pursue a PhD, I'm confident I'm on the right path to a fulfilling future.
If you've been contemplating a potential future in research, the T35 program may be a perfect opportunity for you to explore research as a career path. I would encourage you to speak with professors in your program and reach out to any former students who have participated. My program was incredibly accommodating, allowing me to take a class online for the summer and use some of my clinical experiences in the lab for required clinical hours. These considerations may be something to discuss with your program director.
Applications for each of the T35 programs are typically due in mid-January and applicants are notified of acceptance in early February. Trainees are provided with a stipend for living expenses over the summer and funding for travel expenses to attend the AAS conference the following spring. Below are testimonials from some of the other 2022 trainees on their experiences across two of the sites. I hope they persuade you to apply!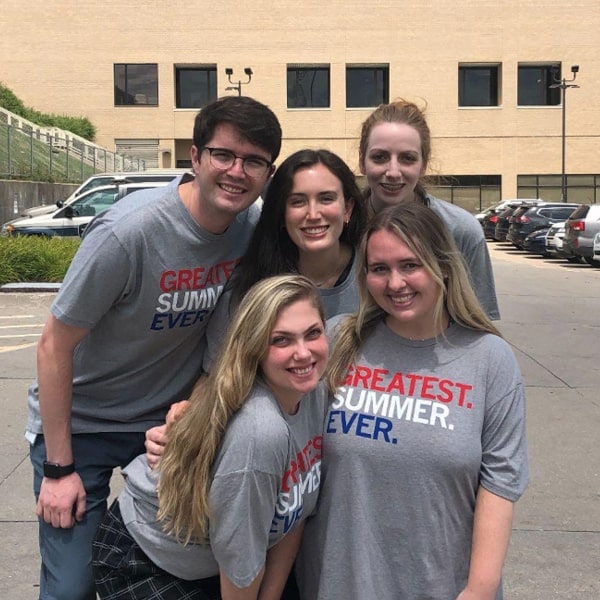 Celebrating the Greatest Summer Ever following our final presentations at the end of summer.
Back row (L-R): David Yeager (University of Louisville), Abigail Simon (author, The Ohio State University), Olivia Montou (University of North Texas)
Front row (L-R): Jessica Combs (University of South Florida), Kaitlyn Marsh (University of Tennessee)
---
Name: Lindee Alvarez
Mentor: Michelle Molis, PhD
Location: NCRAR
Project name: Addressing the Need to Improve Audiological Care for Bilingual Spanish-English Speaking Patients
"The T35 experience helped me solidify my desire to pursue a PhD, and develop foundational skills as an auditory researcher. Although my program was online, I still felt like part of the NCRAR family all summer. My favorite part about the program was the conversations I had with various researchers at the center. I am incredibly grateful for this experience and for all the guidance I received this summer. I encourage anyone who is interested in research to apply to the T35 program at NCRAR, you won't regret it!"
---
Name: Jayden Sarabia
Mentor: Dawn Konrad-Martin, PhD
Location: NCRAR
Project name: Surveying Oncology Providers About Ototoxicity and its Management in VA
"The T35 program is a unique experience that provides students the space, encouragement, and resources to foster their interests in research. I entered the program without much prior experience, but with a desire to learn more about the research process and figure out if I wanted to incorporate research into my career. My wonderful mentor and the rest of the staff at NCRAR met me at the level I was at and helped me cultivate my skills and participate in meaningful projects. I would recommend any student who has an interest in research to apply for this program, regardless of research experience."
---
Name: Kaitlyn Marsh
Mentor: Anastasia Kerr-German, PhD
Location: Boys Town
Project Name: Hyperacusis in Toddlers and Young Children at Risk for ADHD
"Completing a T-35 at [Boys Town] was one of my best experiences thus far. This unique experience allowed me to grow as a researcher and discover research interests I did not know I had. I had the privilege of working alongside my awesome mentor to develop a project that combined both audiology and psychology. This allowed me to gain knowledge in both fields during my time there. I now feel more confident in myself thanks to [Boys Town]. Additionally, I had the best time exploring all that Omaha has to offer. I highly encourage anyone who thinks they might be interested in research to apply to a T-35 program!"
---
Name: Olivia Montou
Mentor: Dr. Elizabeth Heinrichs-Graham, PhD
Location: Boys Town
Project Name: Auditory Sensory Gating in Children with Mild to Severe Hearing Loss
"The T35 Traineeship was a highly beneficial opportunity, as it provided dedicated time to enhance my research skills under a highly skilled interdisciplinary team. Specifically, this program offered dedicated training centering on research ethics, study design, data acquisition, data analysis, development of a scientific presentation, scientific writing, women in STEM meetings, career development, and interdisciplinary research. I was very fortunate to have been placed at the Institute of Human Neuroscience at [Boys Town], where the researchers extended outside typical mentorship duties and provided a wealth of insight into navigating all things PhD and career development. In addition, the Institute of Human Neuroscience offered hands-on experience with advanced neuroimaging techniques, such as magnetoencephalography (MEG) and magnetic resonance imaging (MRI). I particularly enjoyed learning the many steps involved in MEG data analysis. Outside of research, I greatly value the close friendships formed during this program; we had too much fun exploring Omaha. Should any student express even the slightest interest in research, I highly recommend they apply."
The word "research" evokes a wide range of reactions often on opposite sides of the spectrum. I was someone who had a very all or nothing mentality when it came to research — either I was a "researcher" or I was a "clinician." However, I had the wonderful opportunity to be involved in an intensive,…