Congratulations...on Considering a Career in Audiology!
Audiology is an exciting and growing profession with a high demand for many dedicated clinicians. Your interest in the profession will be well-rewarded. The three to six years of graduate school will provide you with the experiences necessary to enter a variety of settings. It is up to you to decide your specific audiology passions!
This informational packet was most recently updated by the 2021-2022 SAA Member Relations Committee, composed of audiology students interested in helping fellow students succeed. It is best to reference each program's application requirements for precise and up-to-date instructions, but it is our hope that this packet is your resource for first-hand, experience-based advice! Happy applying!
Please contact Shannon Culbertson, Member Relations Committee Chair, with any questions.
Hearing and balance disorders are diagnosed, treated, and (re)habilitated by an audiologist. These disorders have physical, psychological, social, educational, and employment implications for patients. Treatment services require that audiologists are knowledgeable on existing and emerging technologies, evidence-based practices, and interpersonal skills to counsel and guide patients and their family members through the (re)habilitative process.
For more information, view the American Academy of Audiology's full statement on the scope of practice.1
Employment Settings for Audiologists
Audiologists may work in a wide variety of settings, including hospitals, clinics, private practices, ENT offices, universities, K-12 schools, government, military, and Veterans' Administration (VA) hospitals.
For further information on each of these categories, visit the SAA's website, which details the various employment settings for audiologists.2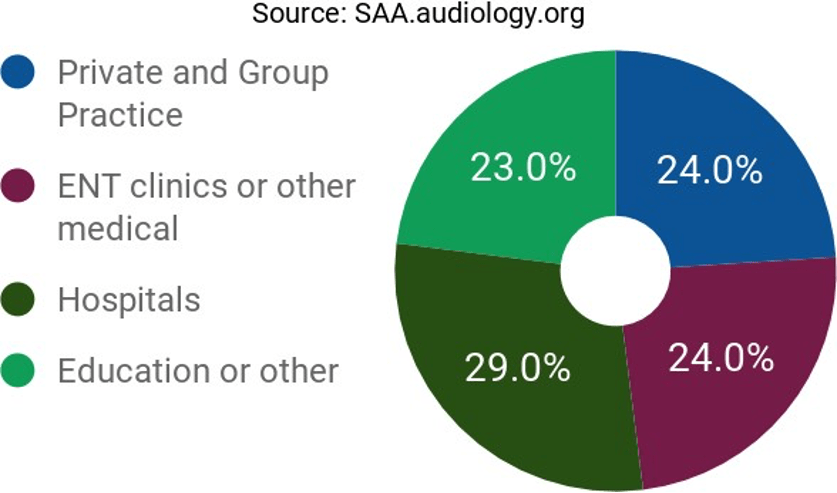 How to Apply for Graduate School
Audiology is a rapidly growing profession, and graduate school admissions can be competitive. This indicates that future audiologists will likely be plentiful, dedicated, and hard-working. If you are passionate about audiology, do not be afraid to apply! This document includes suggestions from successful applicants (current and past AuD and PhD students) in each section. Remember, the best application is an honest application that puts your best foot forward.
Note that the following is advice for the typical application process, be sure to research the specific requirements of each university.
The original questions and answers were taken from "Graduate School Night" at the University of Wisconsin-Madison in 2020. It was attended by both undergraduate and graduate students. The session was an open discussion for undergraduate students to learn about the application process and ask for individual assistance on personal statements or resume writing.
Other questions and answers were added by the SAA Member Relations Committee. Answers from multiple students are included below each answer; the answers are not expected to be applicable to every student.
*Neither the authors nor the American Academy of Audiology are the authoritative source on graduate school applications. The best resource for admissions information is to reference the individual graduate programs' application requirements.