Welcome to the SAA Becoming a ____ Audiologist Interview Series! There are very many pathways or fields of audiology. In this series, the SAA will interview both audiologists who work in varying fields of audiology.
Our next interview of the 2021 term is with Dr. Crystal Kudirka, AuD, CCC-A, clinical pediatric audiologist at the Cincinnati Children's Hospital Medical Center.
Q: Give us a quick description of who you are, what your official title is, and where you are currently working.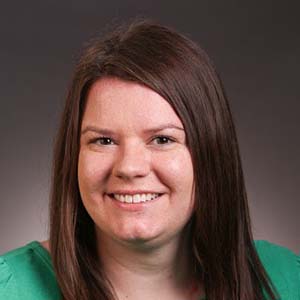 I am a clinical pediatric audiologist as well as the Student Education Coordinator at Cincinnati Children's Hospital Medical Center in Cincinnati, OH. I am a member of the American Speech-Language-Hearing Association (ASHA) and hold my Certificate of Clinical Competence in Audiology (CCC-A). I am also a member of the Kentucky Speech-Language-Hearing Association (KSHA) and serve on the Grants and Scholarships Committee. I'm passionate about community outreach, from presenting at a career showcase, to high school students to providing screenings in areas of populations in need, to traveling to other countries for medical mission trips.
Q: Where did you receive your bachelor's and Doctorate of Audiology (AuD)?
I received my bachelor's degree in speech, language, and hearing sciences from Northern Michigan University and my Doctorate in Audiology from the University of Nebraska-Lincoln.
Q: What made you want to become a pediatric audiologist?
I have always known that I wanted to work with kids, but audiology wasn't initially on my radar. I enrolled in college to pursue a degree in special education and thanks to a family member found another field in which I could still be involved with this population – speech-language pathology! It wasn't until I had my "Introduction to Audiology" course that I knew that is what I was meant to do!
Q: What do you do as a pediatric audiologist?
I provide various clinical services which include behavioral diagnostics, auditory brainstem response (ABR) evaluations, and amplification. As the Student Education Coordinator, I organize observations for students who are considering audiology in high school to establish clinical rotations for students in graduate school who are pursuing their AuD.
Q: What is your favorite thing about being a pediatric audiologist?
Interacting with all of my patients! I also have a passion for student development and enjoy mentoring students.
Q: Are there any additional classes would you suggest for students who wish to become a pediatric audiologist?
I recommend participating in the Leadership Education in Neurodevelopmental and related Disabilities (LEND) Training Program if given the opportunity. This program will provide you a comprehensive understanding of working with children with neurodevelopmental differences through an interdisciplinary care approach that is family-centered. Other areas of focus include policy and advocacy issues, as well as establishing community-based partnerships.
Q: What opportunities do you remember from your undergraduate/graduate career that really helped you solidify your interest in pediatrics?
One of my most memorable experiences from undergraduate school was providing hearing screenings at a local preschool. From a young age, I was involved as a spectator of Special Olympics in a personal capacity as I have a sister with Autism and knew these athletes were a population I wanted to serve. I had the opportunity to participate in the Special Olympics Healthy Hearing program while in graduate school at the state and national level.
Q: What do you know now that you wish you knew when you were deciding to go into pediatrics?
There is so much to know in regards to individuals with different syndromes and conditions to educate yourself in which hearing can be affected as a comorbidity.
Q: Is there anything else you want to say or suggest to students considering going into pediatric audiology?
Take advantage of every opportunity! You never know what you might come across that you didn't know about or didn't think was an interest! It's also a great way to network and build relationships with future colleagues. Audiology is a small profession and pediatric audiology is even smaller.

Welcome to the SAA Becoming a ____ Audiologist Interview Series! There are many pathways or fields of audiology. In this series, the SAA will interview audiologists who work in varying fields of audiology. Our next interview is with Karla Quinones Ortiz, AuD, an audiologist working as the Oticon Education and Training Specialist for the Mid-Atlantic region. Q:…