When I was in graduate school earning my AuD, the hearing conservation area was not discussed much. With only one class on the topic of hearing conservation, the concept of preventing hearing loss and hearing disorders was all but lost amidst lectures focused on hearing aids, cochlear implants, vestibular testing, and other methods we, as audiologists, can utilize to provide damage control for patients. Even now, as a practicing audiologist, I find that hearing conservation continues to take a backseat to other areas of audiological expertise, not only among professionals but also among the subject matter presented at national conventions. Despite the audiology community's lack of attentiveness to hearing conservation, the general public sees it as a hot topic. To whom can individuals turn to for expert care on this topic if not skilled audiologists? Our community actively endorses hearing rehabilitation, as it should where applicable, but remains silent regarding the care and expertise available to prevent hearing loss and disorders in the first place. The silence on the matter is literally deafening.
Before I studied audiology, I studied music. One day, these two worlds collided harmoniously for me; a match made in acoustic heaven. As a musician-turned-audiologist, the prevention of music-induced hearing loss and disorders drew me in from the start. 
Determined, I met, studied with, and eventually worked for a luminary of hearing conservation, Dr. Michael Santucci. During my first week as his mentee, Dr. Santucci asked if I was a student member of the National Hearing Conservation Association (NHCA). I had never even heard of the organization, let alone joined it! He went on to explain what an amazing, varied group of professionals NHCA was, with members ranging from audiologists to engineers, industrial hygienists to physicians; a diverse group sharing a common passion for hearing conservation. Dr. Santucci greatly valued NHCA and iterated to me how much the association benefited him as a hearing conservation audiologist – not to mention, student memberships were (and still are) free!
Without hesitation, I joined NHCA. At my first NHCA conference, I met an assortment of folks, including: an audiologist from NASA, an owner of a mobile hearing conservation practice, an expert who has dedicated his life to studying the effects of noise pollution around the world, and an engineer for a major tech company. The conference was unique in its diversity of attendees, yet I found that everyone at this conference was also just like me because of our passion for hearing conservation. I felt I had finally found "my people." Accepting of me as a student and a burgeoning audiologist, I had found a resource of mentors ready and willing to help me shape my future. From day one, I sensed no hierarchy within the membership and no devaluation of students or those new to the field. I can say with confidence that such equality still exists among NHCA membership today as I, and other experts, welcome students and new professionals into the midst of others who are passionate about hearing conservation.
It's been seven years since I first joined NHCA. I have remained actively involved in the organization, have been a member of NHCA's executive council for three years and am excited to now be spreading the word about the NHCA Scholarship Foundation. The Scholarship Foundation is something I wish I had known about when I was a student and I do not want you to miss out on the opportunity! NHCA provides an award of $500 cash and up to $2,000 in travel and registration expenses to one or two students who have completed research in hearing conservation. Additionally, the Foundation provides multiple student conference awards that cover conference registration fees and up to $800 coverage of travel expenses for students interested in pursuing the field of hearing conservation. The deadline to apply for these awards through NHCA's Scholarship Foundation is October 18, 2019.
A hearing conservation audiologist is what I was meant to be, and if it had not been for an amazing mentor who introduced me to NHCA, and the subsequent benefits of my membership from things as simple as conversations and friendships resulted, I'm not sure I would be where I am today. Now the owner of a successful hearing conservation business, I get to help individuals protect their hearing every day. If you're interested in hearing conservation or are completing research in hearing conservation and are not yet a member of the National Hearing Conservation Association, WHAT ARE YOU WAITING FOR? If you ARE a student member but have not taken advantage of the awards through NHCA's Scholarship Foundation, APPLY TODAY! If you're unsure about hearing conservation as a career and would like to learn more, join NHCA (remember, student memberships are FREE) and talk to those of us who are actively involved in the organization and profession. Audiology is rapidly changing and I believe hearing conservation will not only be increasing in significance, but will be a major aspect of our profession in the not-too-distant future.
Dr. Heather Malyuk is the owner and clinician for Soundcheck Audiology, a practice focused on hearing wellness with an emphasis on the music industry. Aside from audiology, Dr. Malyuk maintains a busy schedule as a professional musician herself.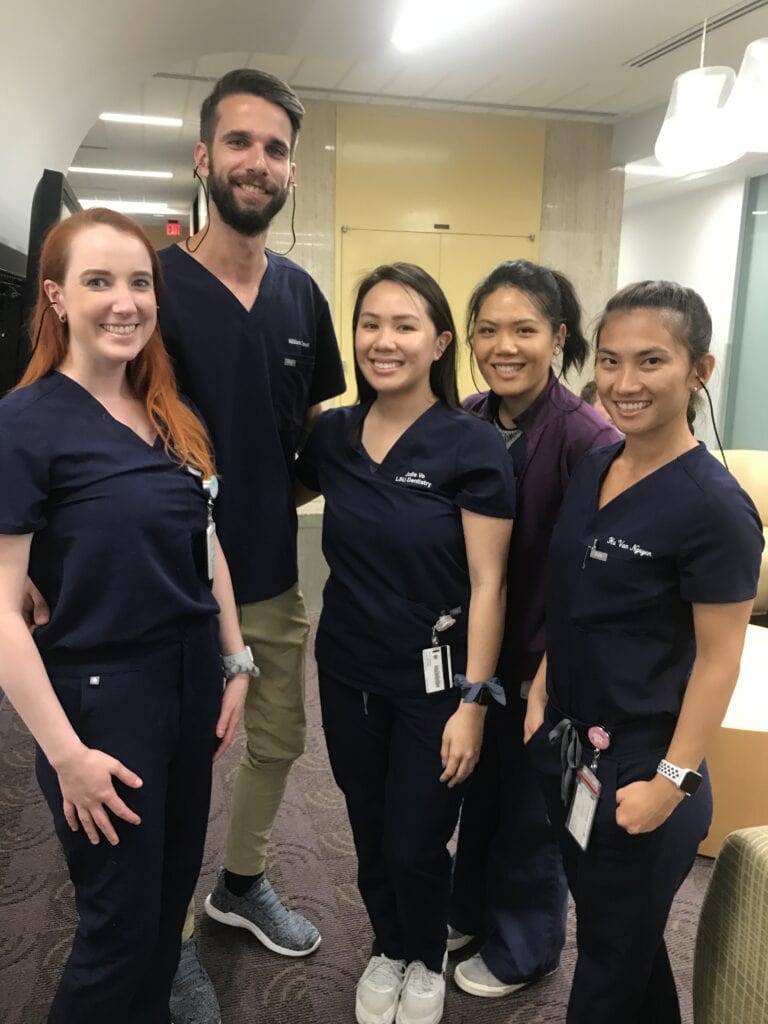 How often do we consider a medical professional to be at risk for occupational hearing loss? Research shows dental professionals are exposed to noise levels as high as 102 dBA, a loudness level far higher than the Occupational Safety and Health Administration (OSHA) sets as their permissible exposure limit (PEL) (Myers et al., 2016). So…